Dodge Ram Track Bar Bushing Kit 3rd Generation 2003-2007.5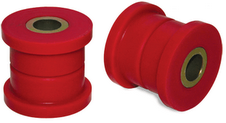 Dodge Ram Track Bar Bushing Kit 3rd Generation 2003-2007.5
Luke's Link Dodge Ram 3rd Generation Track Bar Bushing kit 2003-2007.5.  These are the upgraded Polyurethane Bushings. No Need to replace the bar which is solid steel. Replace the ends which are the only parts to wear out. This will keep the truck from wondering or shake.
This bushing kit includes a pair of bushings to do both sides of the trackbar. Factory hardware will be reused.
You will need an 18mm socket to remove the trackbar bolts. Best to have this in your toolbox before you get started so you won't have to make an unplanned trip to the hardware store. Access to a press to push the old bushings out will save a lot of time and effort on this job.
NOTE: These replacement bushings work on trucks with a build date up to 03/18/07. They WILL NOT work on trucks built after 03/18/07.
This kit will work on all makes and models from 2003-2007.5